Our Family Reunion is held on the First Saturday of August every year. The location is the same every year. We get together at the Gibbstown Pool picnic area. So mark your calendars now. This year, the first Saturday is August 4th. Not sure what we will be surprised with in 2007, but in in 2004 we had a special added feature--the Kevin and Lynn show. Here is how it was announced back then: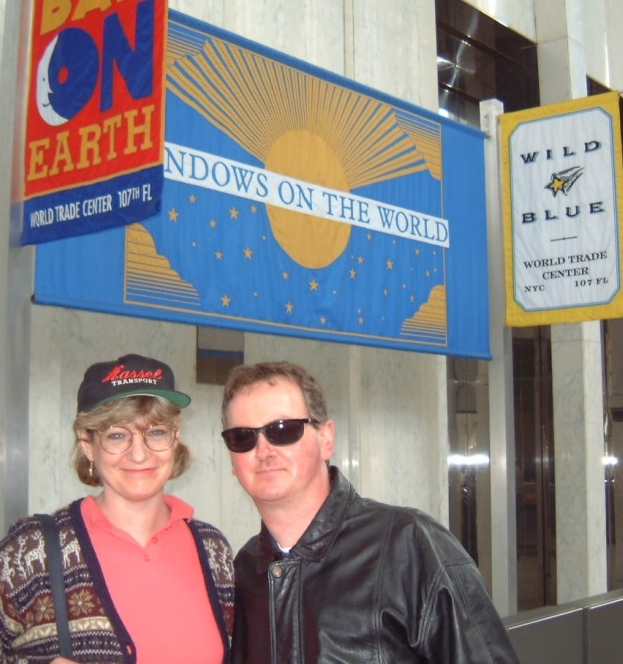 SPECIAL ANNOUNCEMENT!!!!
IN AN EFFORT TO BOOST ATTENDANCE AT THIS YEARS FAMILY REUNION PICNIC, KEVIN and LYNN KOPKO WILL BE SINGING "EVE OF DESTRUCTION", THE BIG BARRY MCGUIRE HIT FROM 1965!
THOSE WHO ATTENDED LAST SUMMER'S FUNFEST WILL RECALL THIS DUO'S CLASSIC RENDITION OF "MONSTER MASH"… (WHICH YOU CAN ACTUALLY WATCH ON THIS SITE!)
FOR MORE INFO ON THE KOPKO'S PERFORMING SCHEDULE, OR BOOKING INFO FOR HIS RENOWNED "TRIBUTE TO BUDDY HOLLY" LIP-SYNCHING CONCERT ACT, CONTACT KEVIN DIRECTLY VIA HIS FAN-PAGE!
(NOTE: THOUGH KEVIN'S NORMAL PERFORMING FEE IS 450. 00, HE HAS GRACIOUSLY OFFERED TO PERFORM AT THIS EVENT FOR FREE !)
At left is a shot of the 'Crooning Kopko's' in NYC while on their 2001 Tour. In case you don't recognize it, they were standing on the ground floor of the World Trade Center waiting for the elevator to go to the Windows on the World Restaurant on the 107th floor, where we had lunch. It was an amazing place.
Hope to see you in Jersey in August!!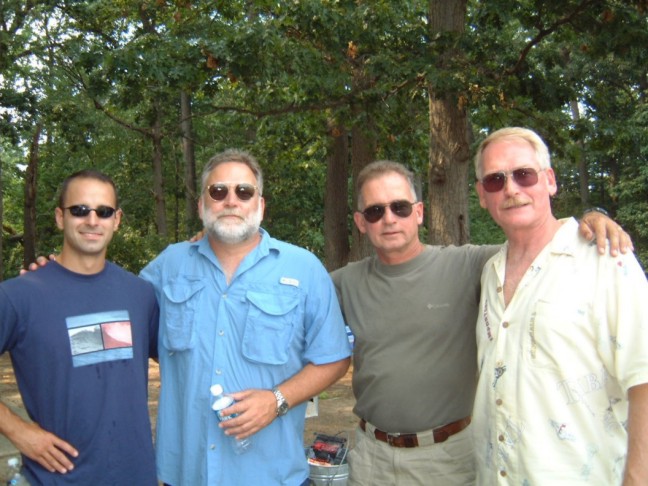 Jay Loomis, Steve, Wayne, and Ken Michaelchuck celebrate the 2002 Reunion