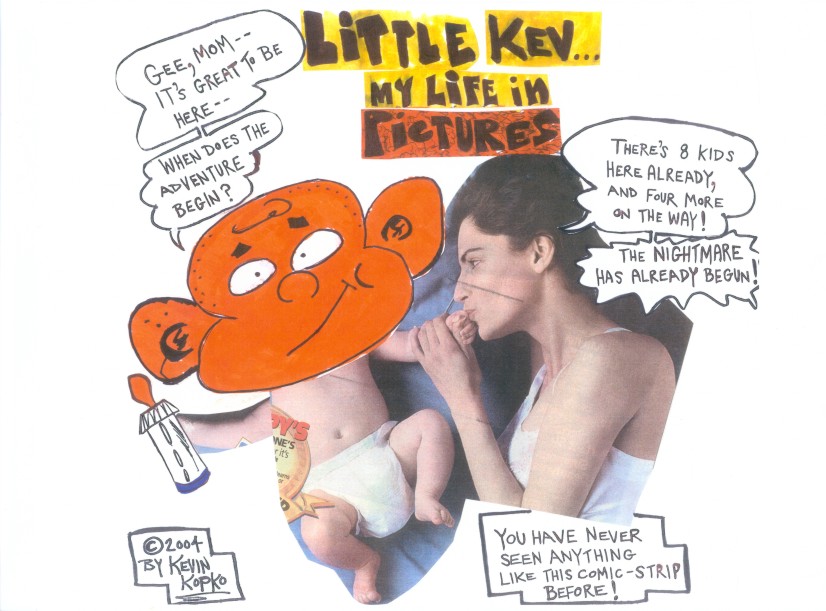 To my many fans, Greetings! . . . I am working on a comic strip called "Little Kev … My Life in Pictures" exclusively for this web site….each week you can follow the sometimes bizarre, always hilarious misadventures of the boy "trapped in a world he never made"….
There's Little Kev….the hero of the strip, as we follow him from birth to adulthood and beyond ….
You'll meet Mom and Dad, the sometimes perplexed, always proud parents…..
There's the 11 siblings, a mixed bag of characters you will come to love…..
Throw in the neighbors, friends, relatives and teachers and you will see how funny background character's can be …..
And don't forget all the beloved animals! They walk, they talk, they're almost human!
It's been said that the best cartoonist's create their own worlds ….Join "Little Kev" in his own world ….Each week right here at "Little Kev ….My life in Pictures" ….
If you don't agree that this is the most original, funniest comic strip in the history of the industry, your money will be cheerfully refunded. Just send the unused portion to this address……