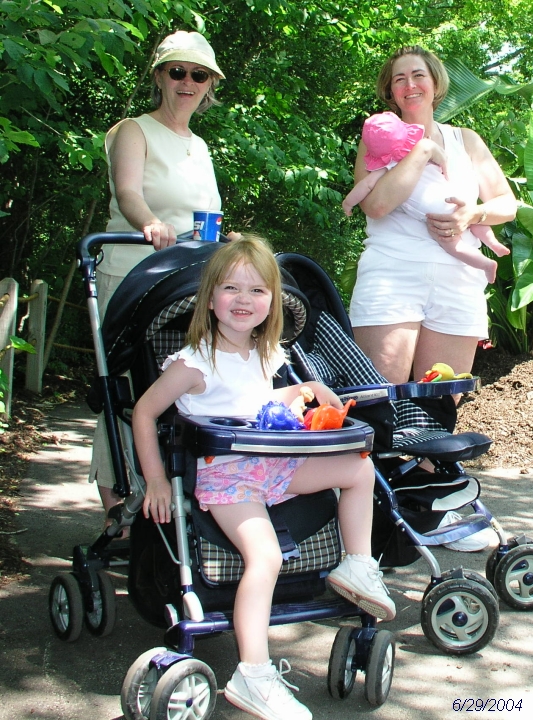 One of our favorite places to visit is the Milwaukee County Zoo. It is great! And the kids love it. This week (June 29th) we went with Melissa and Allison and Megan. Just a wonderful day!

They're just pretend, Pop Pop

Megan likes the dinosaurs

Ahh, that hits the spot!

The dinosaur

Oma Megan Mel and Alley

Melissa Allison Megan and Pop Pop

Megan can touch the Brontosaurus

Megan

See my dinosaur stamps?

Oma and Allison

Allison loves the zoo

Melissa Allison and Oma
Cowgirl

Megan rides the Pony

Megan rides the Camel

Camel ride

Allison and Melissa

Megan with a scoop of Vanilla

I love ice cream!

Megan rides the Camel

Megan on the Dragon
Easter 2004
Since we won't be in Wisconsin for Easter holiday, we took a ride over to see Megan today
We took Megan to the Milwaukee Public Museum last week. Here are a few shots from the museum as well as at our home. You know the drill, just click on a picture to enlarge it and then hit the "Return" button on you tool bar to get back to this page.
Halloween 2003
Megan is "Dorothy" from her favorite movie, "The Wizard of Oz." And I think she is even better than Judy Garland in the role, don't you?
"Tuesday's with Megan" are basically the days we spend with our granddaughter. They started out as Tuesdays, but now are any day of the week. This week it was a Friday at the Zoo, with Megan. And what fun it was. Check out a few of these pictures and you will see:
And then again, sometimes "Tuesdays with Megan" are actually "Thursdays." That is what happened last week. Kathleen (Oma) and I (Pop Pop) took her to the Milwaukee Art Museum for the afternoon. After the museum we drove back along Lake Drive and saw the geese that normally hang out down at the park. I know Megan loves the geese so we stopped and let her run after them. It was a bit cool so I put my Mets cap on her little head to keep her warm. Check her out right here. More thumbnails follow.
The shots below were taken at the Milwaukee Art Museum on Thursday, 10/2/2003. Just click on a thumbnail to blow it up to full size. After viewing click on the return button to get back to this page: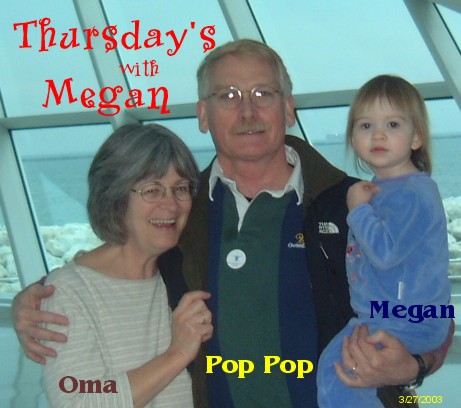 Oh what fun we have with Megan! Oma and Pop Pop pick her up and take her for a half day adventure. Sometimes we go to the Milwaukee Art Museum, like we did this day.
I'll be posting pic's of Megan here. Above is Oma and Megan at the Milwaukee Art Museum