As you can tell, I love to take pictures. I figured I had better start a new page for Alley. I will just add shots here as she grows up. The newest photos will be at the top of the page. Hope you enjoy them!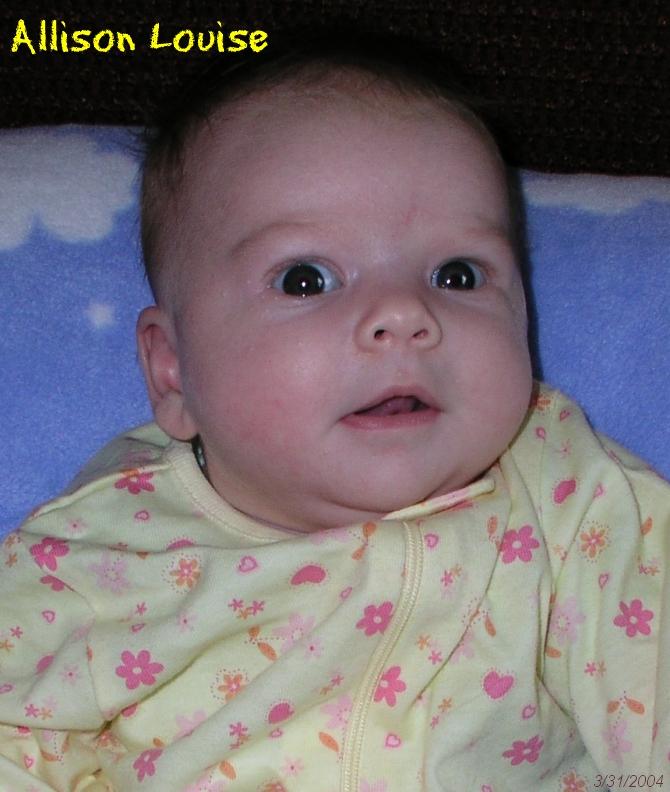 Nice shot on the left. There are a lot more below. Just click on the pictures below to make them full size. Then use your "Back" or "Return" button to get back to this page.
Then again, you may just want to hang out here and listen to the music. If you don't like the music or it is too loud, you can go to the bottom of the page and adjust it. Just use you mouse and cursor in the little box at the bottom. By the way, you can do this on all my pages.

Contented

Mother and Child

Sleepy Head

Zzzzzzzzzzzz!

Burrpp!

Oma and Allison

It don't get no better than this!

Bring it on!

Yummy

I'm ready for bed!

Cutie Pie

My favorite page!

Great book Mom!

Oooops!

It wasn't me!

I love my Oma

Get me out of here!

She's not heavy, she's my cousin

"It's okay Alley"

Alley at Oma and Pop Pop's

You talkin' to me?

I think I did something

Are we done yet Pop Pop?

Three Generations

Nice lighting Pop Pop

'Goo, Goo' to you to!

Our Angel

"I feel like an angel in my Maiden Form!"

Hello

Melissa and Alley

Proud Grandparents

I like Oma's place!

Let's go Home!

Ready to Ride!

Melissa Dan and Alley

Love at first site!

I see Ur Oma!

Gas?

Yawn!

Comfy!

Get that flash out of my face, please!

Time to get up!

Melissa and Ur Oma

I like it here
Ur Oma and Alley
Love

Four Generations

Four Generations in one picture!

Oma, Mom, Jon, Alley and Ur Oma

Can't get enough of her!

Alley up close

Joy is a Grandchild

Oma and Alley

Awwwwwwhhhhh! Sooo Cute.

I am here

I love my Oma

Getting hungry

My Space

Contented