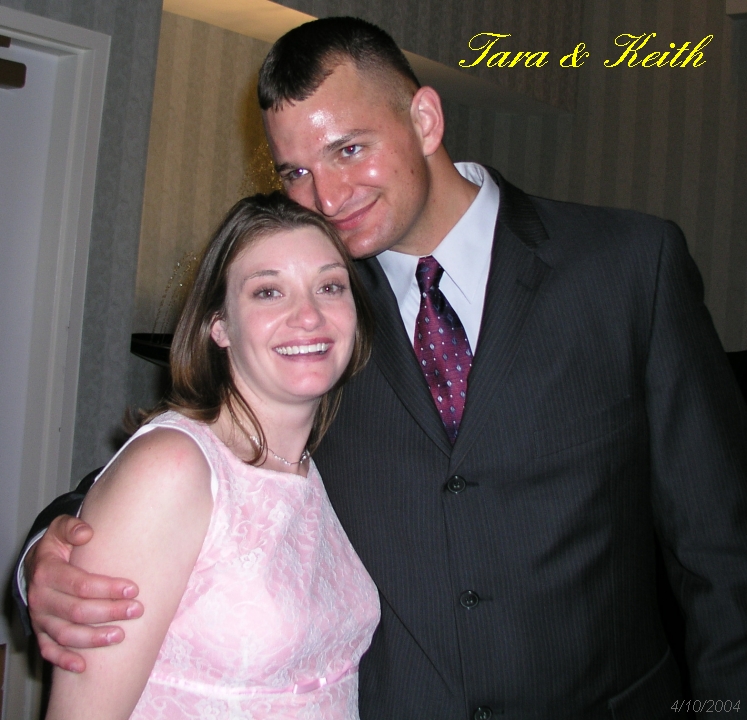 Tara and Keith were married in South Carolina in August of 2003 where Keith serves in the Marine Corps. We attended their reception in Virginia on April 10, 2004 and had a blast!
Folks came from as far south as Florida, as far north as Canada and as far west as Wisconsin. We all came to celebrate and were not disappointed.
The pictures I took are shown below in thumbnail format. If you click on a thumbnail picture it will blow up to full size. Once you are done viewing the full size picture, just click on the "Back" button to return to this page. I have included all the pictures I took, even those a bit out of focus, or ones of backs of folks as I think that Tara and Keith will appreciate them, even if they are not perfect pic's.
I apologize for not having everyone's name included and may have made a mistake or two on the captions. Please forgive me and forward names and/or corrections so I can edit them.

The Wedding Cake

Tara and Keith

Travis

Matt and Travis

Dick up close and handsome

Friends

Tara and Friends

Matt & Melissa, Larry & Trish and Josh

The Smiths

The Brothers

Keith and Mom

Keith and Mom

Oh Canada!

Tania and Uncle Larry

Tania and Patrick

Tara and Keith

Delicious!

Dick and Lorraine

Jim

Pensive Jim

The Florida Connection

Peggy and Frank

Frank and Peggy

Keith and his girls

Kathleen

The Family Grows

Nice cropped shot

Ooops!

Tania and Melissa

Family Shot

Kathleen and Ken

Josh Smith

Daughter and Mother-Tania and Dorothy Ann

Travis and Theresa

Dancing the night away

Family

Good times!

The Toaster

The Toast

Inta

The Girls

Danny

I love you man!

The Brothers

Larry and Matt Smith

Matt up close

Father and Sons-Josh, Larry and Matt

Melissa and Matt

The After Party on the Patio

Keith Dick Matt Patrick and Travis

Tara and friends and family at the After Party

Kathleen and Dorothy at the "After Party"
And here are some photo's taken by Shannon, Keith's sister. Nice shots Shannon!