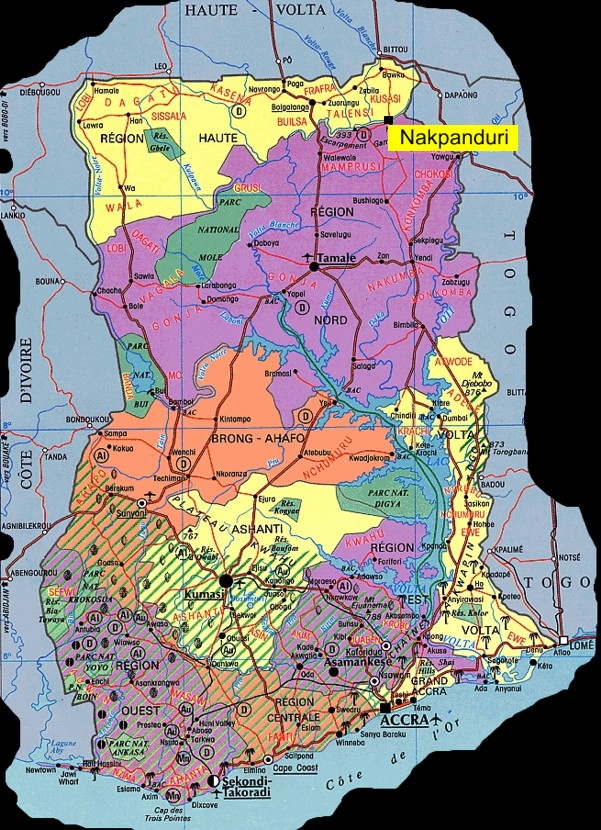 Perched on the highest point on the Gambaga Escarpment, Nakpanduri lies about 30 miles due south of Bawku, as the birds fly. One of Jon's good Peace Corps buddies, Carl, is located there as a teacher. Jon had visited Carl over the past year and described the beauty of the Escarpment upon which the village lies. There was no question that this was a "must see" for Kathleen and me.

We hired a driver and left from Bawku in the morning. Getting there was half the fun. The car broke down at the top of the escarpment, and Jon, the driver and I had to push it the rest of the way into town - about a mile. Kathleen walked along side us continually asking me if I was okay and fully expecting me to drop over with a heart attack. Luckily after the first quarter mile, it was all downhill to the village of Nakpanduri.

It was "Market Day" in Nakpanduri, which occurs every three days. This meant that a bus would be going to Bawku that evening - it only runs on market day. So our back up transportation was in place. As we haggled with the driver over who would pay for the repair, we heard a booming voice yell, "Jon, Jon, Jon, . . " It was Jerry, a village elder and good friend of Carl's and by association, of Jon's.

Jerry became our outstanding host, supporting Jon's position with the driver and then offering to take us to a local spot while our car was repaired. After a beer or two at the spot, we walked about a block to Jerry's wife's pito bar. What a delightful experience that was!