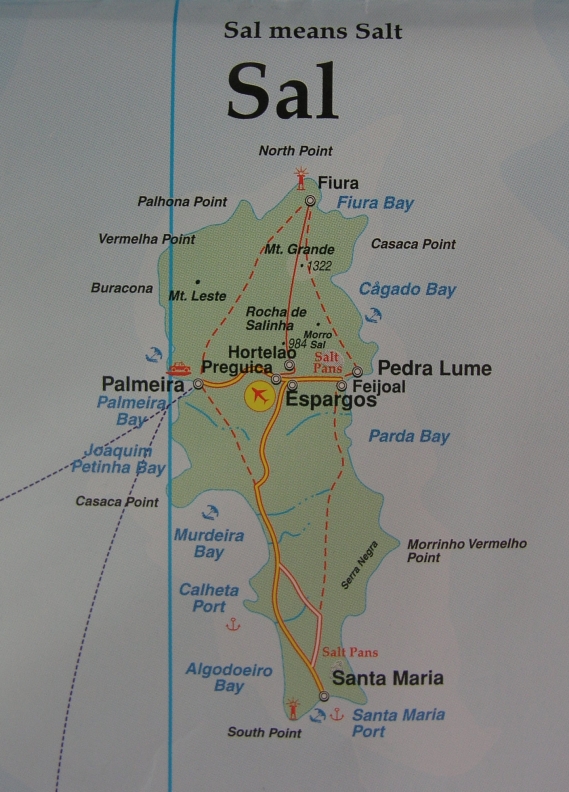 "There can be no where on earth as elemental as Sal. It lies like an oil slick on the Atlantic - any mountains, streams or vegetation that may have adorned it in the past have been obliterated by the wind over millions of years. Now Sal is just stone, sand and salt still blasted by the same winds. On Sal the transience of life - animal or vegetable - becomes dismally clear."
from, Cape Verde Islands, The Bardt Travel Guide
Sal is the island I flew into from Lisbon. It is the most desolate place I have seen outside of the Painted Desert. It literally resembles the landscape of Mars. Ten thousand people actually live on this island-almost all of them in Espargos. They were the nicest folks you could meet and were always polite and helpful to us.

At the left is a shot of the landscape of Sal. I took this shot from the back of a pick up truck as we were traveling from the port town of Palmeira, where Nirvana was anchored, to the main city of Espargos.
I had flown into Espargos from Lisbon, Portugal and arrived at one o'clock in the morning. According to plan I was to get a cab to the port town of Palmeira where Nirvana was resting at anchor. John would meet on shore at the "only dock in the town." Turns out I went to the only "commercial" dock in town, while Bogie waited about a quarter mile away at the dinghy landing where all the sailors went ashore. I waited and waited and walked up and down the pier with my flashlight. There were a dozen or more sailboats on anchor in the harbor and I could not see much in the pitch of night. So I waited, . . . until the sun came up. Then I looked over at what appeared to be a dinghy landing and saw some activity. Several natives were conversing with a tall thin white guy in a yellow cap. Though he was a 1/4 mile away, I recognized Bogie by his posture and that hat. I tried yelling but was too far away. I then walked out the security gate of the pier, into the town and around the block to the dinghy dock. Reunited at last, Bogie and I had a chuckle comparing notes on the night. He had waited at his dock all night as well and was getting ready to head into Espargos to check the airport for me. Below are some shots from Sal.


At the left are some shots of Nirvana on anchor in the harbor at Paleirma. Bogie had been there a couple of weeks and had gotten to know most of his neighbors. The second shot was taken from a French catamaran which was anchored directly in front of Nirvana. We had been invited over for drinks and snacks on Monday afternoon. We had planned to leave for Sao Nicolau that evening and this was a sort of goodbye party for us. The cruisers are a close knit bunch and very friendly to each other. Very cosmopolitan, they do not delve into politics nor other nationalistic discussions. I suppose when you are cruising the world in a small sailboat, the oceans, the ports of call, fresh water, on-board power, and all the other challenges trump nationalism. Though they must fly the flags of their home countries, they are cruisers first out here.

At the right you will see my first dinner aboard Nirvana. Bogie had caught a nice sized mahi mahi the day before I arrived and grilled it up for dinner my first evening aboard. With some canned corn and boiled potatoes, it was outstanding. He had some super hot, super spicy island sauce that caused me some grief, but you will have to ask me in person about that incident. I like the close up shots of food, as well as the empty plate. It was good!


My first breakfast aboard Nirvana was a real treat. Cruisers like Bogie seem to have an insatiable need for fresh bread. In fact one of the first factoids they share in any port, after "Where do you get fresh water here?" is "Where can you get fresh bread?" Apparently these folks have been away from the motherland so long, they have not heard about the Atkins diet and the way average folks back home are shunning carbs. Bogie would buy fresh baked bread in Paleirmo from a local woman who baked a few times a week. Later on our trip a Swiss cruiser shared a recipe for making fresh bread in a frying pan. We had fresh 'pan baked' bread all the way across the Atlantic. One loaf would last about three days. The pictures at the left show Bogie preparing breakfast. I had brought over some really nice bacon. Another favorite of cruisers is French Toast--they use their stale bread to make it. Bogie makes a "mean" breakfast!
We spent a couple of days exploring the island of Sal. Actually we went into Espargos. John had befriended a few of the local men and one of them wanted to show us his home. Also, he tried to convince Bogie to let him crew with us to Grenada providing him with an escape from this island. Not a good idea as this would have been illegal for us to do. There was no way Bogie would consider this. You had to feel sorry for the young people on Sal as the place does not provide a lot of opportunity and it certainly is not my picture of paradise. I'll let you be the judge. Below are a bunch of shots I took on our trip into Espargos to see David's home. I think you will appreciate what you have a lot more after seeing these:

Dave and Bogie walking in Espargos

Typical street in Espargos

Bogie and David

The alley leading into the home

Looking into David's home

Bogie in Davids room-no windows

Bogie and some local friends

David's Kitchen

A typical meal

The Utilities Room

Bogie

David and Bogie in David's house

The barren landscape
Dave and Bogie

David and me

Walking in Espargos

Kids are kids around the world

One of the nicer houses
Now it's Miller Time!

Interesting Intersection
The Soccer Field in Espargos

Downtown Espargos


We enjoyed the warm hospitality of the French boat prior to setting off for Sao Nicolau.
Notes from my log:
11/15/2003 Saturday – Lisbon, Portugal
After a day of touring the city of Lisbon including a fine seafood dinner at a very nice restaurant I headed back to the airport to board my flight to Sal, in the Cape Verdes Islands. At the terminal I converted my remaining Euros to Escudos the currency of Cape Verdes—the exchange rate was about 100 Escudos to the Euro—and lit out for the TAP Air terminal. The check-in counter was an impressive hundred foot long affair with 15 to 20 check-in stations, but was staffed with only one person. The line was already about 50 people deep consisting mostly of black islanders heading home. Their check-in luggage was mostly large (very large) cardboard boxes tied with clothes line. It was obvious that security was not going to be a problem here. No need to worry whether or not my heavily laden bags would get through to Sal. Nobody was checking anything that was going on our plane. I met a Frenchman who was heading to Sal to meet up with a boat that was sailing to Martinique. He told me this was an annual "all guys" trip that he did every year with his friend who owned the 45 foot sailboat on which he would crew. It reminded me of my annual trip in August, albeit we only go across Lake Michigan.
From the check-in counter we meandered to our assigned gate and were crowded into a large room which sported a counter with two airline employees guarding the one door out to three waiting buses. These employees were checking boarding passes and passports, but did not do so in any organized fashion. In the US we would have been called up by row number. Not so here. First come -- first serve. It was dark out as we boarded the buses. As my bus approached the plane, I noticed that there were boarding stairs positioned at the front door of the Airbus 340 as well as the rear door. I was assigned to seat 5F in the fifth row, up in the front of the plane, but the front stairs were not being used. Our bus, the second to arrive, was let out at the rear stairs and we got in line with those who had just gotten off the first bus and were entering the rear door of the plane. I just figured we would all just make our way to our seats from the rear of the plane.
As I got halfway up the stairs, a point of no return mind you, I looked forward to see the third bus disembarking its load of passengers to the front stairs. Now it hit me! I would have to make my way from the very back of the plane to the front while many folks going up those front stairs probably would have to get to the rear of the plane from the front. It was unbelievable! Imagine a large airliner with about 300 passengers loaded down with carry-on luggage, and in this case, large cardboard boxes and baskets, trying to pass by each other in a narrow aisle. It took forty-five minutes to get the seating sorted out on that plane. It was complete chaos. Halfway up the aisle, I slipped into the recess created at the emergency exit and found a stewardess hiding there. I asked her if they ever boarded the plane by row number to avoid this kind of confusion. She gave me a very quizzical look and replied, "Hey, that is a good idea!" And she was serious.
After that it was a non-eventful flight and we touched down on the island of Sal on schedule. The airport is located in Sal's largest city, Espargos, in the middle of the island. Much to my surprise, everything I had checked in arrived with me—I felt great! After securing my two large suitcases I found a cabbie willing to take me to the port city of Palmeira for 500 Escudos—that's roughly five US dollars. Bogie had told me I should be able to get from Sal to Palmeira by cab for 300 Escudos but 1:00am in the morning I decided not to negotiate to hard. It appeared there were more passengers than cabs, and I was not about to lose mine.
Sal is a barrier island. Some have likened it to Moon Base #4 in a bad sci-fi movie. The terrain is unreal, nothing like I have ever seen in my life. The cab driver headed out of the airport for about two miles on paved road until we reached a Shell gas station. There he made a hard left and sped through a tarmac parking lot of another gas station and onto a dark back road. There were no lights on this road. The paving, what there was of it, on this road was terrible. In fact we were off on the shoulders of this so-called road as much as we were on it because of the ruts and pot holes. If I did not know better I would have thought he was taking off to a deserted godforsaken spot to rob me. But he did get me to the port town of Palmeira. I told him to take me to "the dock." That is where I was to meet Bogie. He drove me right up to the gates of city's commercial dock. Now Palmeira is not that big a town. And the harbor is rather small, maybe a half mile across. I figured no matter where he dropped me off, I would be able to find Bogie easily.
The locked gate should have been a hint that I was at the wrong rendezvous point.
A young uniformed Cape Verdian appeared out of his guard shack and unlocked the gate. He spoke no English. I spoke no Portuguese. I whipped out my handy dandy Portuguese to English phrase book and we found a way to communicate. There were about 15 sailboats and another 10 or so fishing boats at anchor in the harbor. A large commercial fishing boat was tied up to the concrete pier where I was. By now it was about two o'clock in the morning and very dark, and other than the hum of the idling diesel on the fishing boat, very quiet. My new friend showed me where sailboat dinghies might come up to this dock so I positioned my bags there and proceeded to change into more comfortable clothes and to transfer all my belongings from the rigid suitcases to large duffle bags. I had planned this when I packed. I knew that suitcases would not stow well on a sailboat, but lugging 100 pound duffle bags around an airport was out of the question. I found the solution by packing everything into two old giant suitcases that I could give away on the islands. Included in the suitcases were three duffle bags into which I could transfer my stuff. While I was unpacking the guard was observing and noticed my plethora of tee shirts. He practically begged me for one. I figured a tee shirt might buy some extra security for my stuff as I waited for Bogie. I gave him one and loved it! I also gave him one of the empty suitcases.
I stayed up all night waiting for Bogie. I walked out onto the pier and yelled out into the harbor. No Bogie. I walked around the dock area and noted the lumber that had been unloaded. Apparently most building materials had to be shipped in to this island as it supported no indigenous trees capable of supplying lumber.
Finally the sun came up. Still no Bogie, but now I could see around the whole shore of the harbor. What I noticed was that the dinghy dock for the sailors was about a quarter mile to my left. And on that dock was a fellow with a yellow cap—it was Bogie. Though I could not make out the features of his face, I knew it was him. I yelled to him but he could not hear me. I had my camera's and computer in my back pack. The duffels were too heavy to carry that far. I left them on the dock behind the gates and took off into the town to find my way to that dock. We shook hands at 8:00am that morning.
I had been waiting all night in the wrong spot. And Bogie had been waiting at the dinghy dock all night only a quarter mile away. United at last, we motored over to the commercial dock in his dinghy and loaded up my duffel bags and the remaining empty suitcase. We headed over to Nirvana to begin our adventure.