We were not rich in monetary terms, but we were definitely wealthy in family love. And when you are four years old, you would much rather have the love than the money. Now that you are grown, what are your priorities? I will be posting family memories here. Hope you enjoy them. I will add the newest stuff at the top, so don't be afraid to page down. There will eventually be quite a bit here.

I found this newspaper article in my family archives. Now that I am retired, I have some time to start to organize all the stuff I have. My goal is to not only organize it, but digitize it and share it with the rest of the family. My Great Grandfather was quite a guy. He served in the US Marine Corps and saw action in the Chinese Boxer War (1898-1900) as well as the Spanish American War in 1898. After the service he was the police chief of Paulsboro. When he retired and got older, he and his wife moved into the Soldier's Home in Vineland, NJ. The article in thumbnail at the left was published in the Vineland News on June 8, 1947. Click on it to enlarge it and read it. After sending it to some of the family, I received a nice note back from my cousin Dorothy (Dorothy is the daughter of my mom's twin sister, Thelma--of course mom's name was Louise--they were the original "Thelma and Louise"). Dorothy's note is worth the read and adds a personal touch to the story. Here it is:

KENNY,
I LOVED THAT NEWS PAPER ARTICLE YOU SENT ABOUT OUR MATTSON GREAT GRAND PARENTS! NOW, MAYBE MY GROWN KIDS WILL UNDERSTAND WHY I ALWAYS REFER TO THEM AS ..................."GRAND MOM AND POP POP DOWN VINELAND." ALWAYS AS IF IT WERE ONE WORD !! BUT THAT IS HOW I REMEMBER THEM. I LOVED GOING TO THE SOLDIERS HOME IN VINELAND TO VISIT THEM AND STILL REMEMBER THE GARDEN THEY HAD WITH THE SUMMER HOUSE AND THE PICNIC TABLE.
AFTER GREAT POP POP DIED, GRAND MOM -DOWN - VINELAND CONTINUED INDOOR GARDENING IN THE INDOOR GREEN HOUSE AND ALL THE RESIDENTS CAME TO HER FOR ADVICE ON THEIR PLANTS....SHE ALSO HAD A GREEN THUMB.
AND HER LOVE OF POPPIES CONTINUED AS SHE AND MANY OF THE VETERAN WIDOWS MADE SILK POPPIES TO BE SOLD ON MEMORIAL DAY. I REMEMBER BEING ALLOWED TO HELP AND IT WAS SUCH A TREAT TO ME !! I FELT SO GROWN UP THAT THEY TRUSTED ME TO DO IT CORRECTLY! I REALIZE NOW ......... THEY WERE USING ME !! BUT I LOVED IT ! I REMEMBER THE SOLIERS' HOME IN VINELAND SO WELL ......... I LOVED TO VISIT THERE. !! THANK YOU , KENNY. THAT ARTICLE BRIGHTENED UP MY LIFE TODAY BY JOGGING SOME GOOD MEMORIES THAT I MIGHT HAVE FORGOTTEN HAD I NOT READ IT.
TALK TO YOU SOON..IN PERSON AT THE REUNION !! LOVE, DOROTHY
This first picture, below, shows Robyn, Louise and George on a picnic with Leah's daughters, Michele and Debbie. Robyn looks to be a teenager. The discoloration in the picture was on the print and I have not had time to work on getting it corrected with my software. One more project on my list. Also note that this full shot replaces the one I had up here for a while--of Donnis Wayne and me, which is now the next Thumbnail down. My intention is to change the pages, add photos, text etc. on a regular basis, so you have a reason to return.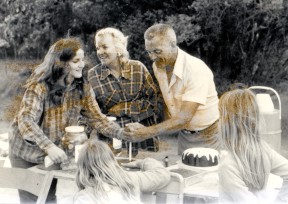 This is a nice shot, and one of the earliest I have, of Wayne, Donnis and me as youngsters. There were not a lot of pictures taken in our family back then. Click on this thumbnail to get the full size version, then use your Back Button to get back to this page.

"Grand Pop" -- Rudolf Brose Mattson--U.S. Marine Rudolf B. Mattson-around age 16. This photo was taken in France during WWI. The year was 1919, I believe, but need to confirm. He served in both World Wars. In WWI he served in the Second Division, US Marine Corps. In WWII he served in the SeaBees as a Machinist Mate 1st Class. He was born in April, 1902 and died August 15, 1966. Click on the thumbnail to see the full size photo. After viewing, hit the Return button to come back to this page. By the way, his dad, Winslow Jackson Mattson, was a US Marine as well. Enlisting in March 1898, he served in the first company of Marines to land in Cuba during the Spanish American War. He also served in the Philippines during the Philippine insurrection and in China during the Chinese Boxer War. Photos below show Rudy in WWII. Wow, both big ones!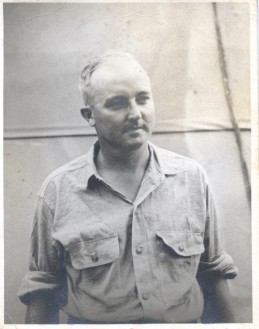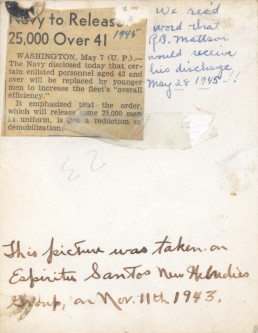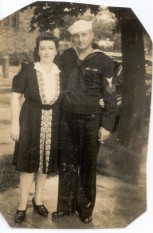 Above: The first two images are "front and back" shots of a photo of Rudy Mattson I found in my archives. As you may be able to read, It is a photo of Grand pop taken on the island, Espiritu Santos, in the New Hebridies Group on 11/11/1943. Also a note that says he will be discharged on May 28, 1945. The clipping indicates the reason--servicemen over 41 years old were getting a break of sorts. Rudy was born on April 28, 1902. The third photo above, shows Rudy in his Navy uniform with his wife Sarah.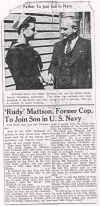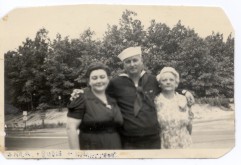 Click on the newspaper article on the right to enlarge and read it. Pretty article.
At the left is grand pop with grand mom and his mother. I don't have a date for this picture. If anyone has any more information, please send it to me.
The thumbnail at the left is a shot of Grand pop and most of his family. His wife Sarah, kids Louise, Thelma and Winnie are shown. I am assuming Edgar was off in the Navy at this time. You can blow this one up to full size by clicking on the photo. Just use the "Back Button" after viewing to return to this page. This was a small photo that I scanned in, and I used my software to enlarge the photo. The quality is not that great, but if you know these folks, you will recognize them here.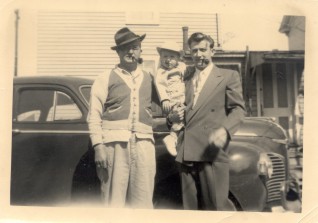 Here is a shot that looks to be a 1950's shot. Grand Pop with Uncle Winnie and probably Billy. Again, if you have more info, please send it to me.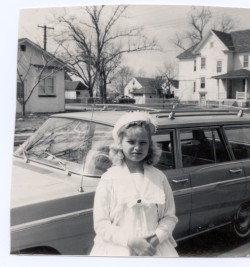 And here is a nice shot of Kimberly taken at 317 Billings Ave.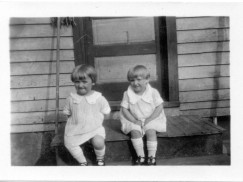 And on the left is an early photo of Thelma and Louise. I don't have a date or location.

At the right is a color shot of one of my favorite's. Click on this thumbnail of Donnis, Louise and Kimberly to see a full size photo. Those Mattson girls have the looks don't they?

Here is a nice photograph of Uncle Ed and Aunt May's wedding. Edgar Marsh Mattson (Uncle Ed) was born on 3/23/1923. He and Aunt May (Mary Kathryn Blomer) were married on June 17, 1950 in St John's Church in Paulsboro, NJ. Uncle Ed served in the Navy during WWII. He was a radio man on a PBY airplane in the South Pacific. One interesting note. He met up with his dad on a South Pacific island in the middle of the war. I have a news clipping from the local paper and will scan it in.
Below are some more old shots you might enjoy.